August 29, 1918 was a great day to be in downtown Winston-Salem. There was no forewarning, no advance notice that this would be a red-letter day in Winston-Salem history. You just had to be there.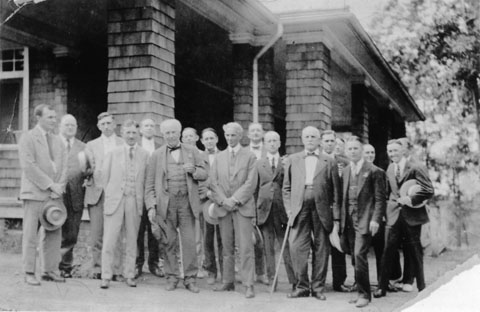 In 1918 Winston-Salem led North Carolina cities in many categories - largest manufacturing city overall and in particular for knit goods, flat plug tobacco, wagons and furniture. Winston-Salem led all North Carolina cities in population increase and boasted the largest weekly payroll between Richmond and Atlanta. Two daily newspapers served this thoroughly modern city, and three railway systems were centered here. With 37 million dollars invested in factories, there were also five banks to make loans and provide competition. With an abundant water supply, 200 miles of permanently improved roads in Forsyth County, streets lighted by electric lamps, and modern sewerage and drainage systems, Winston-Salem was second to none.
It was to this city that a call came from Statesville during the morning of August 29th reporting that travelers nearing Mocksville needed a part for their car. John Gilmer, vice-president of the Motor Company at 223 N. Main Street, received the call and promptly made arrangements to bring the car in for repairs. He also alerted Norman Stockton, secretary of the Rotary Club. Stockton and a representative of the Board of Trade (now called the Chamber of Commerce) moved quickly to arrange a luncheon for the travelers at Forsyth Country Club.
Several cars went to Mocksville carrying citizens, such as Will Maslin, to greet the visitors and bring them to the club. And this is how Thomas Edison, Henry Ford, and Harvey Firestone Junior and Senior, along with D. J. De Loach and R. V. Cline, made their unplanned visit to Winston-Salem.
The travelers had been on the road about 10 days, starting their tour in Pittsburgh and spending the previous night in Asheville. They had been living in the open, sleeping in tents, and viewing nature, people, forests, fields and industry. Hagerstown, Maryland was the final destination for this trip.
The annual excursions began in 1915 when Thomas Edison was honored in San Francisco and San Diego with a Thomas Edison Day. Henry Ford and Harvey Firestone accompanied Edison to the festivities. At the end of the trip, Edison suggested, "Let's do this every year." The 1918 trip was the most ambitious and took the travelers down the roller-coaster mountain boundaries of Virginia, West Virginia, Tennessee, and North Carolina, with a return by way of the Blue Ridge route of what is now Interstate 81.
Among the citizens at the club to receive the guests was Mayor Robert W. Gorrell. During the luncheon Colonel W. A. Blair renewed his acquaintance with Henry Ford, whom he met on vacation in Florida. As treasurer and trustee of the Slater Normal and Industrial School, Colonel Blair praised the work of the school and its importance to the state. Henry Ford came from a farming background and was impressed with the work of Slater School. Before he left town that day, Ford announced his donation of a new Fordson farm tractor to Slater School.
After the luncheon Ford, Edison and Firestone thanked their hosts for the generous reception on such short notice. As the men assembled outside of the club, R. V. Cline, the travelers' photographer made a group photo. The men in the photo are James G. Hanes, Henry Dwire, B. S. Womble, Harvey Firestone Sr., A. H. Eller, Thomas Edison, Frank Dunklee, John Gilmer, Henry Ford, B. F. Huntley, R. E. Lasater, P. H. Hanes, Ray Johnson, Powell Gilmer, Harvey Firestone Jr., Will Watkins and Norman Stockton.
J. Frank Morris invited Edison and Ford to visit the Huntley-Hill-Stockton Company furniture store on North Trade Street. Edison was particularly interested in the display of furniture and the music department which included his phonograph. "I'm afraid you won't be able to get many more of these," he said. He went on to explain that his plant at Orange, New Jersey was devoted mainly to government work because of the war. He also bemoaned the shortage of labor, difficulty of transportation and high prices of raw materials in manufacturing his products. He concluded his tour with these words of praise, "You have a wonderful store here, doubtless as fine as one could find in any city of like size in the country, and it should be a source of pride to you to realize that fact. A fine city, a fine people, and a fine store. You could hardly wish for more."
Members of the firm and sales force of the Huntley-Hill-Stockton store gathered around the famous guests as they graciously visited with local residents. Many probably marveled later at their good fortune because the following day was the Huntley-Hill-Stockton company picnic and they came close to missing these famous men.
After returning from the furniture store, Thomas Edison stood outside of the Motor Company on Main Street and spoke with the hundreds of local men and women who came by to greet him. At 71 years of age, Edison was not a stranger to Winston-Salem citizens. He was well known for his part in the design of our streetcar system and had last been in town in 1906 to gather minerals for his experiments. The reputation of this man who invented the phonograph, telegraph, incandescent lamp and light system, alkaline storage battery, and held patents for more than 900(at that time) inventions, was unequalled among all people, for he made the quality of their daily lives better.
Norman Stockton took Henry Ford, age 55, to see a tobacco auction at Brown's Warehouse on North Main Street, then to see the manufacturing operations of R. J. Reynolds Tobacco Company. Ford was particularly interested in touring the factory where Camel cigarettes were made. Mr. R. E. Lasater conducted the tour of the factory, and Ford's first request was for a sample of Camel tobacco in the loose. Mr. Lasater placed a sample in an envelope and Ford and Edison were seen dividing this souvenir as their car left the city.
The editorial in the Winston-Salem Journal the following day summed up the feelings of most citizens: "Winston-Salem was fortunate in having as visitors two men, one of whom is easily one of the greatest men of all ages, and the other one of the greatest men of the present age. It is a happy coincidence that two men who have accomplished so much in eliminating the drudgery of life and in the promotion of happiness of people should visit the city at the same time."
World War I was clearly on the minds of Edison and Ford, even while they were on vacation. Ford told the group that his own factories were being converted for government work to make U-boat chasers or Eagle boats. Automobiles would not be made after the first of the year, but tractors would continue to be manufactured in reduced numbers.
The war was on the minds of Winston-Salem residents also because of the upcoming registration on September 12th. The local exemption board was recruiting volunteers to handle the clerical task of processing 7,000 registration cards. Many of the men who recently greeted the famous guests were serving as registrars at a number of locations in the city.
Of course no one could foretell that the Armistice was only two months away and that some of the men recruited for military service would likely never leave Winston-Salem. Soon the entire country would celebrate the end of the war and the return of the soldiers.
Winston-Salem would move on to post-war life, but seasoned citizens would talk for years about the day they shook hands with Thomas Edison or fixed Henry Ford's car or served lunch for Harvey Firestone or had some memory of where they were when an ordinary day became a red-letter day in Winston-Salem history.